I'm ali from Cali.
DOB: Octover 29, i'm 17.
location: Los Angeles

top 5 bands: +My Chemical Romance (since WAY before the new cd came out... it sucks i have to clarify that nowadays) +From Autumn to Ashes +Finch +Hawthorne Heights + Taking Back Sunday


favorite song of all time? God, i hate that question, so i'll just answer for now adays +Milligram Smile- From Autumn to Ashes. Their cds are my most recently bought cds, so i've been basically only listening to them. It's my favorite song right now because 1, i like the music, 2 because i love the lyrics, 3 because the band is tild.


explain your username: bloodied_sheets... no, it's not because i'm on my period... it's because i had this fantasy with killing my boyfriend... or just, ending the relationship. i have this weird blood thing. i like it, what can i say. pisses off my parents, though.

(accidentally erased question, i'm sure you get the idea.)
OH MY GOD. STUPID FREAKING TEENY BOPPERS HAVE RUINED MY LIFE.
Sugarcult was really the first band they ruined. I practically despise that band now because their shows are inFESTED with teeny boppers screaming OMG tim you're SO HOT!
THEN it was taking back sunday,
and NOW it's freaking MCR. at least i saw them a few times BEFORE they got to the shows. some girl actually had the nerve to say, "omg Gered is SO hot, i'm never washing my hand" after she met him. Some fan you are, calling your favorite member Gered when his fucking name is GerARD. loser.

your thoughts on teeny boppers: HATE KILL DIE. i'll fucking drag you into the moshpit and kill your ass. sorry.

promote us in one community and send us the link
promotion.

i don't know how the pictures gunna turn out.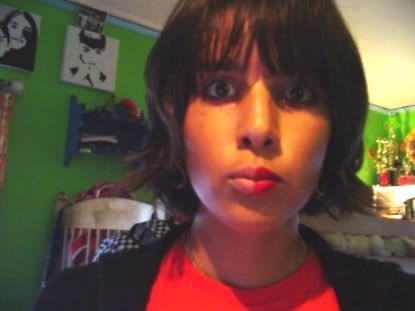 before the mcr concert. that was like a month or two ago. i keep cutting my hair though, so it's the same length as in that picture.

yeah by the way, i just made a hawthorne heights community.
it sucks so far.
if anyway wants to be a co moderator, tell me. lol.
because i don't know what i'm doing.
i haven't posted yet or anything.
if you're interested, tell me.